The embattled German lender says it will fight the near-record demand which will be a fresh blow to investor confidence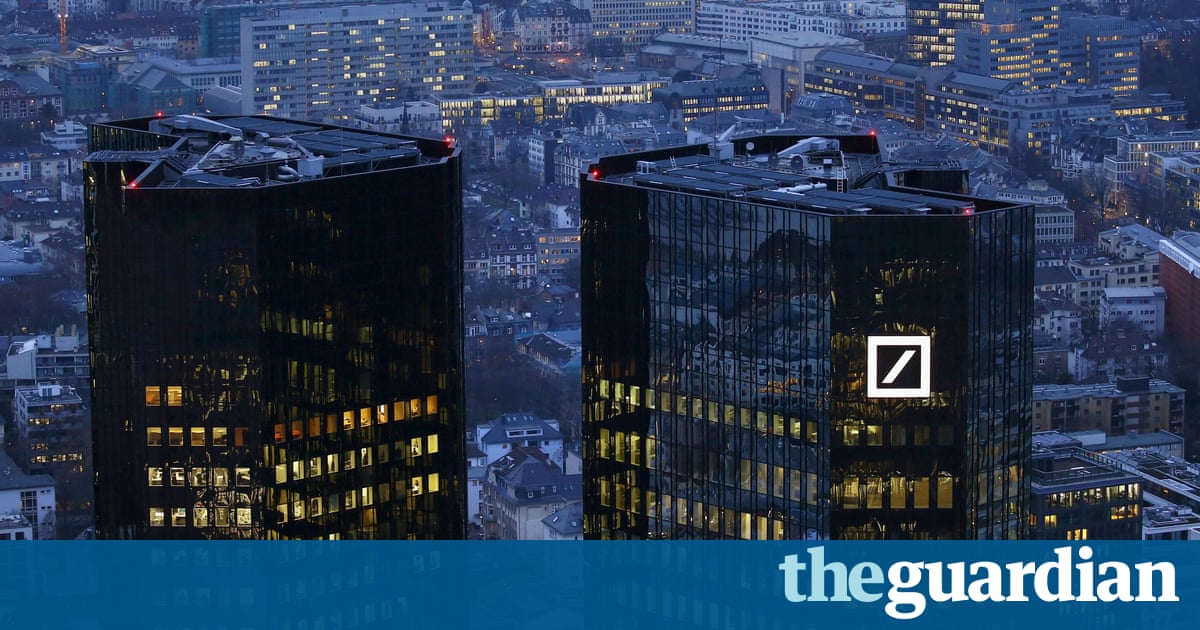 Deutsche Bank must pay $14bn to settle a US investigation into its selling of mortgage-backed securities, Germanys flagship lender has said.
The US Department of Justice claim against Deutsche, which the bank said it would dispute strongly, far outstrips the banks and investors expectations for such costs.
While it not clear what the final payment will be, a fine as high as $14bn would be a severe strain for Deutsches fragile finances and would likely further rock investor confidence in the bank. The banks US-listed shares fell 8% in after-hours trading.
Deutsche Bank has no intent to settle these potential civil claims anywhere near the number cited. The negotiations are only just beginning. The bank expects that they will lead to an outcome similar to those of peer banks which have settled at materially lower amounts, Deutsche Bank said in a statement on Friday.
It gave no details about the alleged mis-selling but a source close to the matter told Agence France -Presse that the allegations stemmed from the sale of mortgage securities in the 2008 crisis.
The Department of Justice, which declined to comment on Friday, has taken a tough stance in settlement negotiations with other banks, requesting sums higher than the eventual fine.
In 2014, it asked Citigroup to pay $12bn to resolve an investigation into the sale of shoddy mortgage-backed securities, sources said. The fine eventually came in at $7bn.
In a similar case, rival Goldman Sachs agreed in April to pay $5.06 billion to settle claims that it misled mortgage bond investors during the financial crisis. That settlement included a $2.39bn civil penalty, $1.8bn in other relief, including funds for homeowners whose mortgages exceed the value of their property, and an $875m payment to resolve claims by cooperative and home loan banks among others.
Deutsche Banks settlement will comprise a different list of recipients, a source close to the matter said, adding that the lender had already settled some claims three years ago.
In late 2013, Deutsche Bank agreed to pay $1.9bn to settle claims that it defrauded US government-controlled Fannie Mae and Freddie Mac, Americas biggest providers of housing finance, into buying $14.2bn in mortgage-backed securities before the 2008 financial crisis.
A $14bn fine, or even half that sum, would still rank among one of the largest paid by banks to US authorities in recent years. In 2013, JPMorgan Chase & Co agreed to pay $13bn to settle allegations by the U.S. authorities that it overstated the quality of mortgages it was selling to investors in the run-up to the 2008-2009 financial crisis. In 2014, Bank of America agreed to pay $16.7bn in penalties to settle similar charges.
Deutsche Bank has not said what it has set aside in anticipation of a settlement over the sale and packaging of resident mortgage-backed securities before 2008. Its overall legal provisions stood at 5.5bn at the end of the second quarter.
Deutsche was once one of Europes most successful players on Wall Street. Like many of its peers, it has since faced a slew of lawsuits that often trace back to the boom years before the crash. Its litigation bill since 2012 has already hit more than 12bn.
Claims filed by individuals, companies and regulators against Deutsche, outlined in the banks 2015 annual report, relate to mis-selling of subprime loans and manipulation of foreign exchange rates or gold and silver prices. Other lawsuits are for the rigging of borrowing benchmarks Libor and Euribor, used to set the price of mortgages and derivatives.
In July, chief executive John Cryan said he hoped to close the four largest remaining litigation cases this year.
These are the mortgages and FX cases, an investigation into suspicious equities trades in Russia and allegations of money laundering.
Reuters and AFP contributed to this report.
Read more: http://www.theguardian.com/us
The post Deutsche Bank must pay $14bn fine to settle US mortgage case appeared first on The Money Tribe.
from
http://www.themoneytribe.com/deutsche-bank-must-pay-14bn-fine-to-settle-us-mortgage-case/